The best businesses need the highest-quality app intelligence!





Whether you operate a mobile ad network, offer a suite of SDKs, or sell other products or services in the mobile app ecosystem, the 42matters Explorer offers
leads for 1.9 million app publishers, responsible for 19+ million apps, including email, web, and physical addresses.
This will enable you to:
Grow your pipeline with leads exported in CSV.
Find new publishers with immediate access to the app ecosystem — no coding required.
Conduct app market research.
Monitor apps and publishers.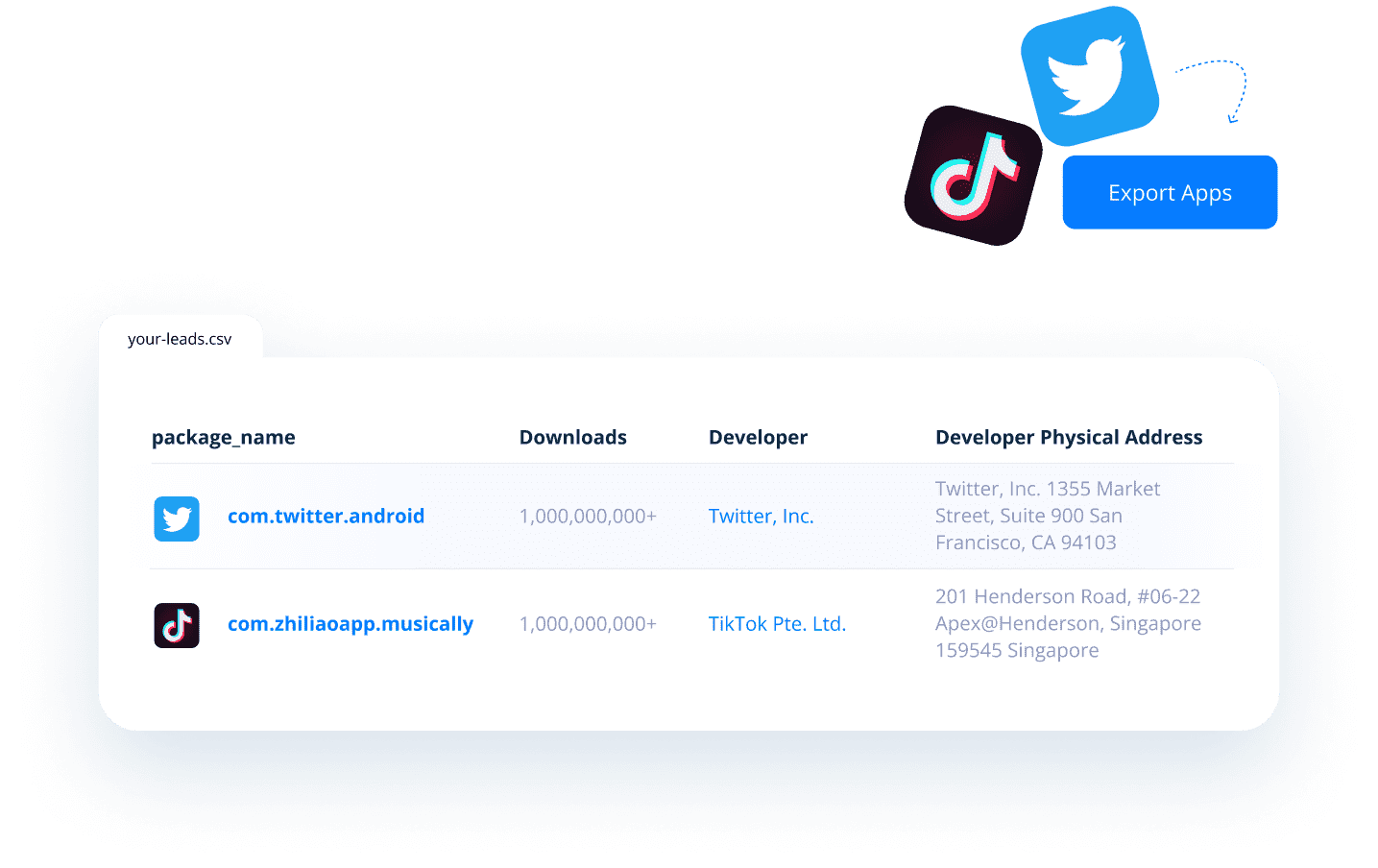 Thousands of App Metrics for Advanced Filtering
Browse all 19+ million published and unpublished apps on both
Google Play, the 
Apple App Store and 
Roku Channel Store.
Filter apps by:
Developers
Ratings
Categories
Downloads
SDKs
Permissions

Country
Language
Alerts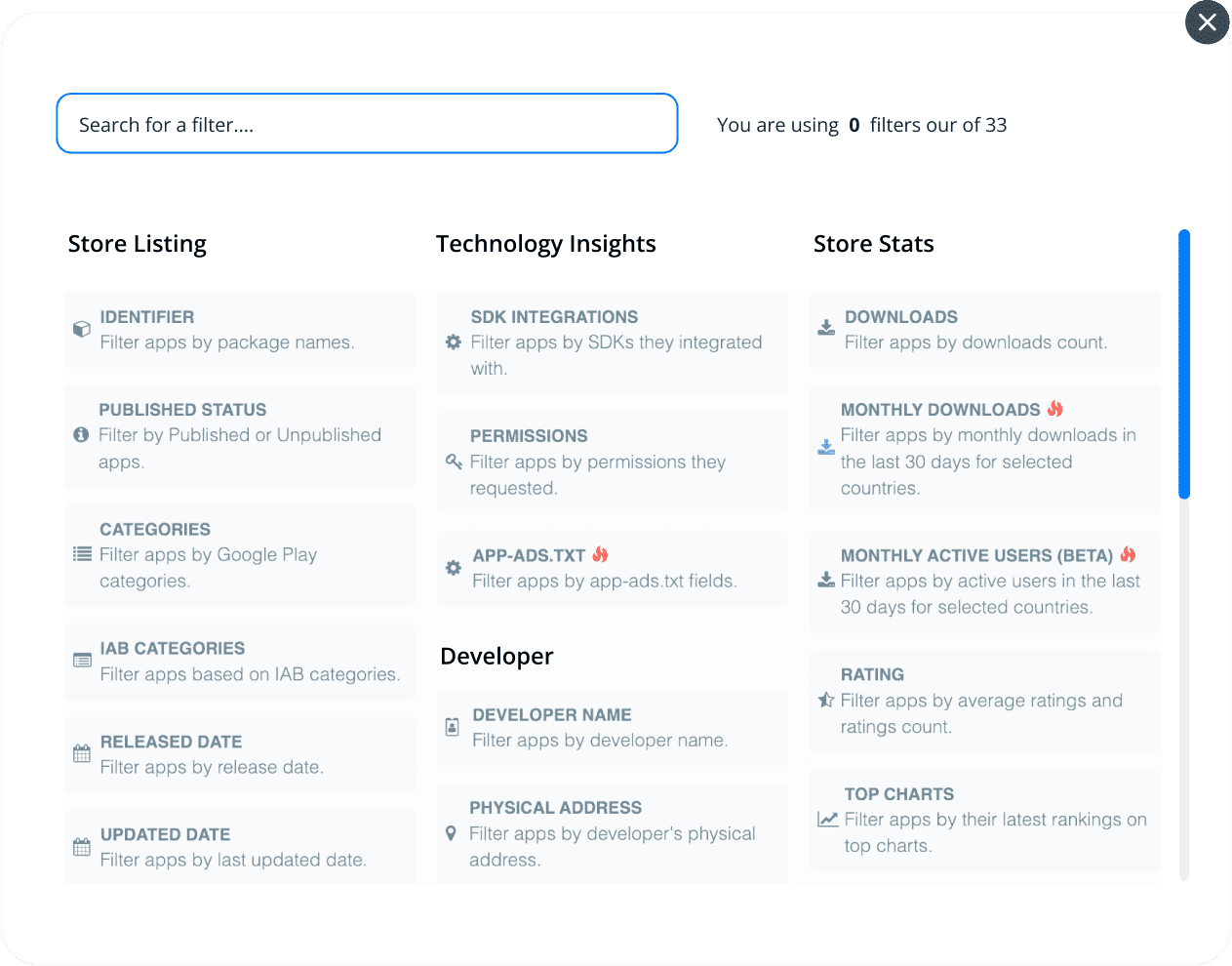 Export App Publisher Leads Into Simple CSV
Since the 42matters Explorer tracks over 1.9 million app publishers — including their email, web, and physical addresses — you can use it to generate app publisher leads.
Filter leads by:
Total downloads, so you can focus on the most popular apps.
Downloads by country, so you can identify customers in your target markets.
And more!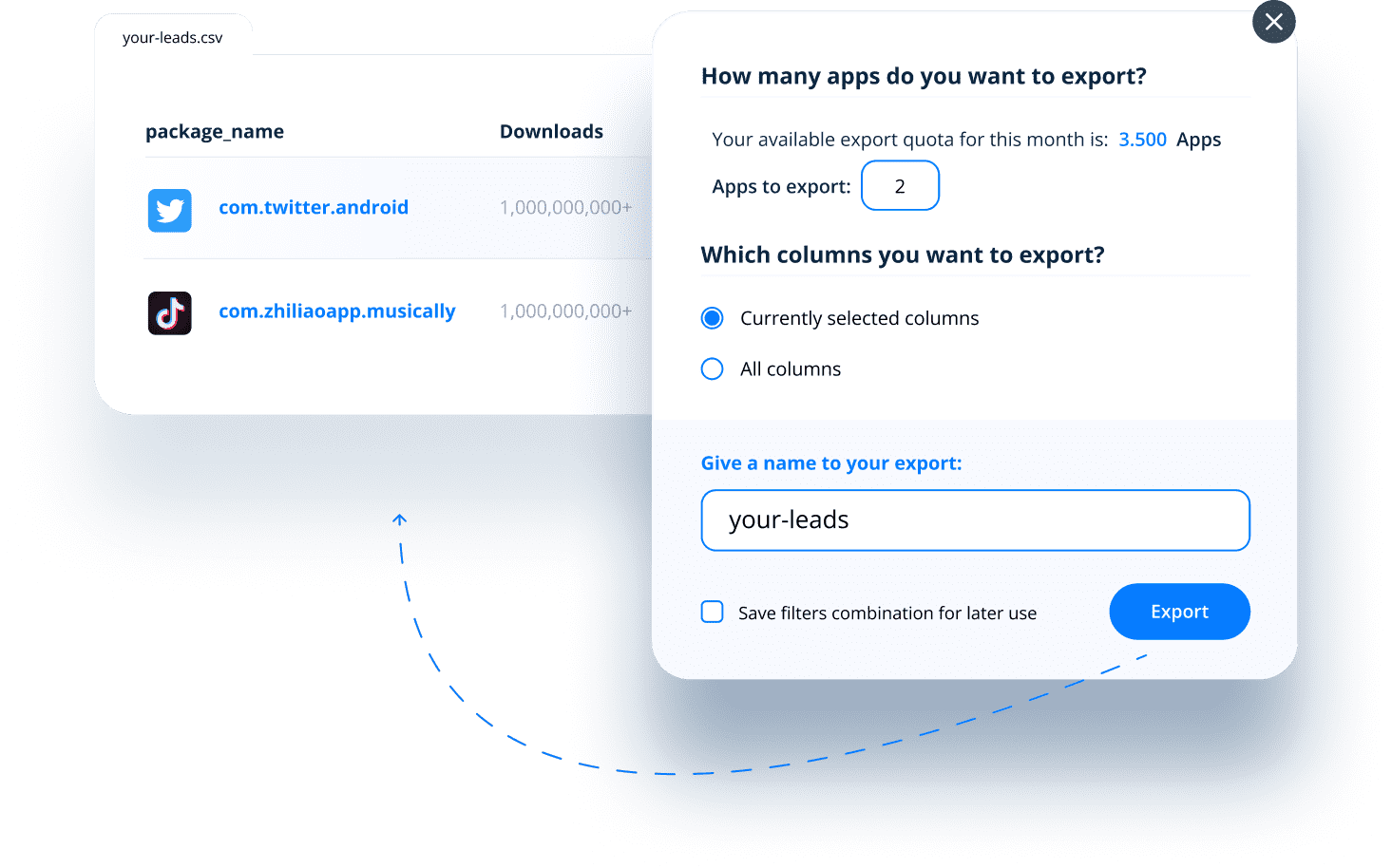 Keep an Eye on the Competition
Identify which apps use your competitors' SDKs. Determine which categories, verticals, or regions they're targeting. Export this data as an Excel or Google Sheets report for additional analysis. Calculate competitor market share and see where they're having the most success. Track which apps have recently installed your competitors' SDKs. Set alerts for key apps and competitor SDKs.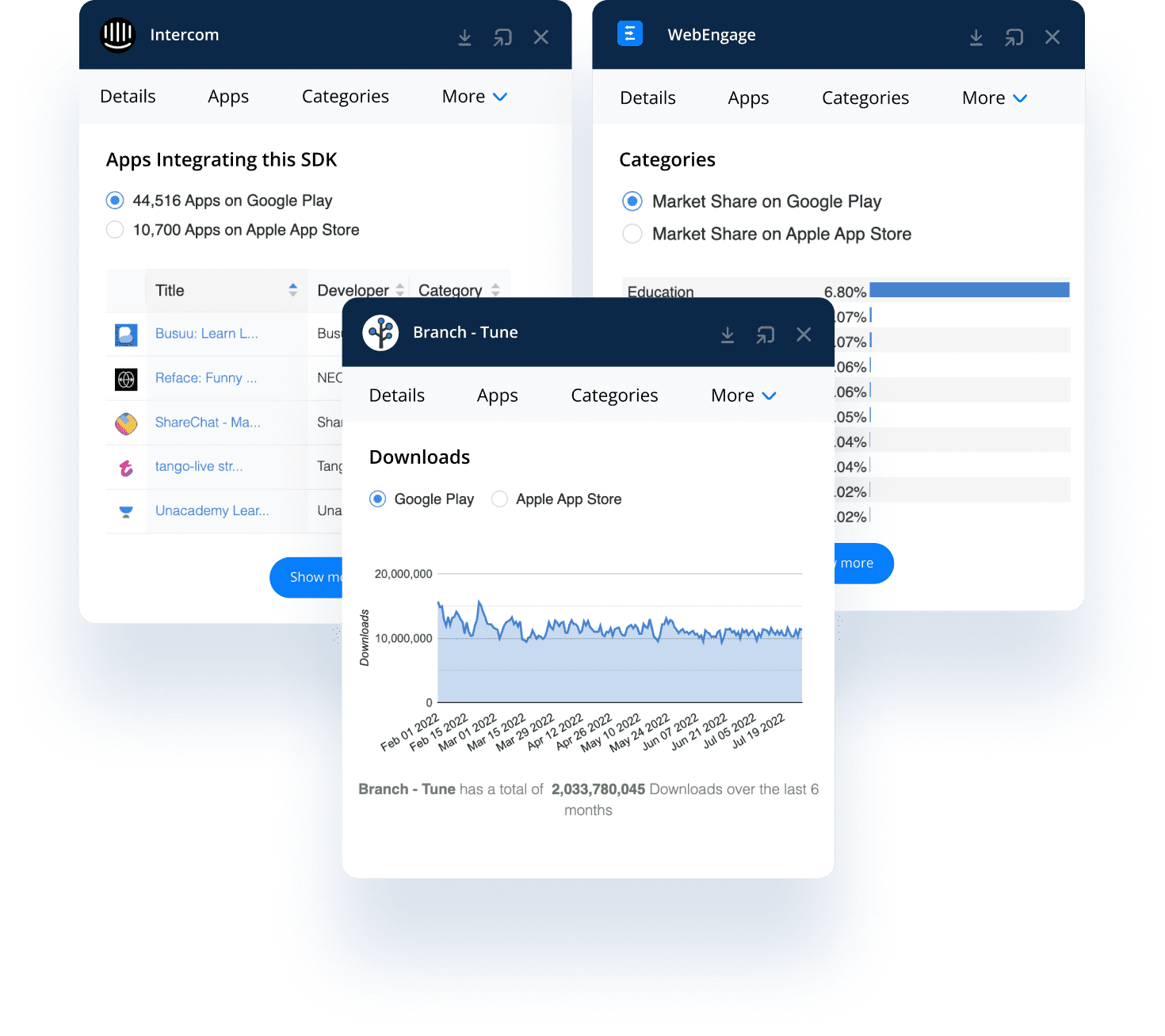 Flexible Access to 42matters'
App Intelligence Data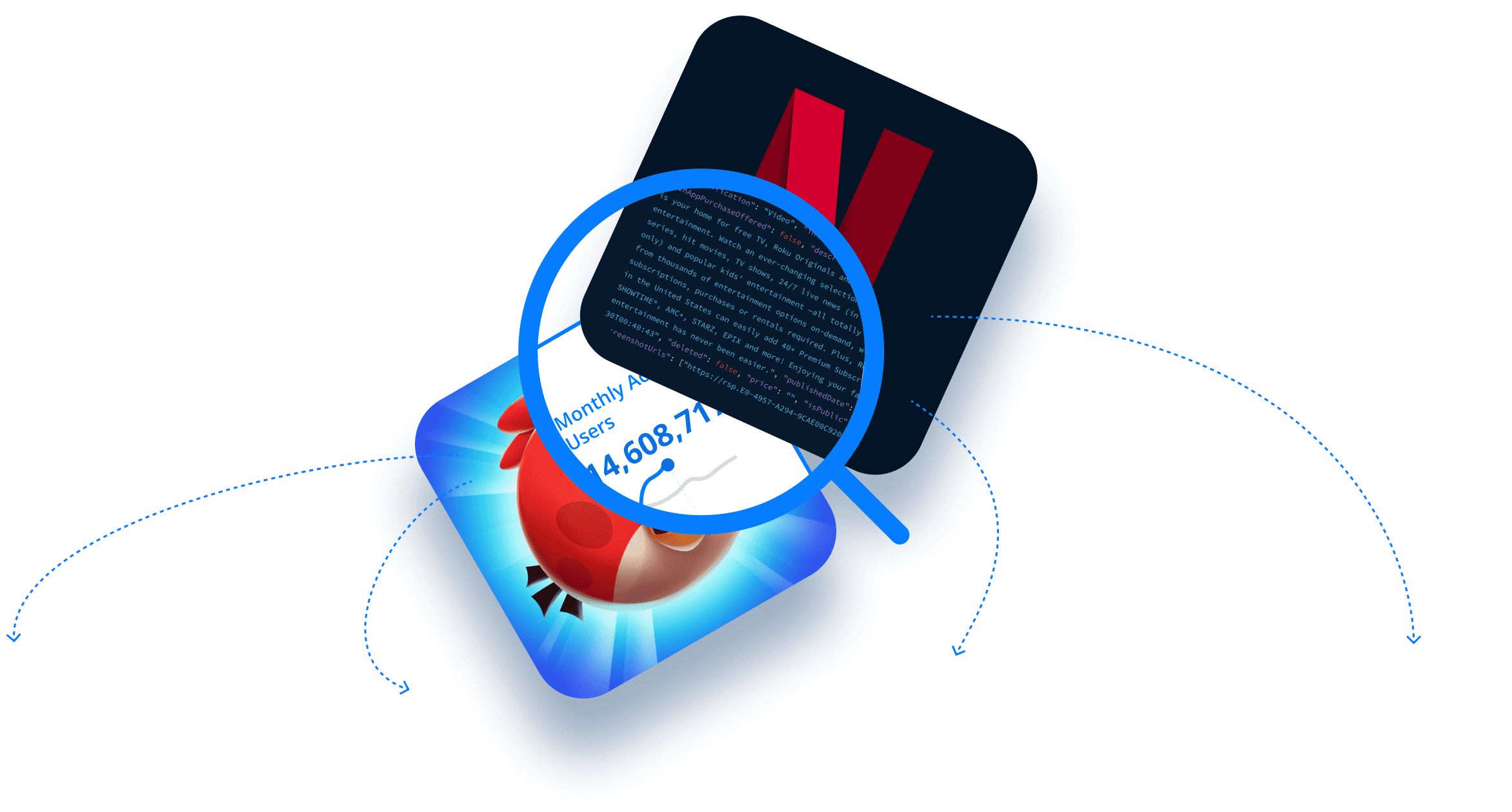 Explorer
Visually explore app intelligence for any iOS, Android, or Roku app.
App Watchlist
Track and benchmark any iOS or Android apps on a single, unified dashboard.
API
Programmatic access to mobile and CTV app intelligence.
File Dumps
Download the latest app data and statistics and ingest them into your own system for further analysis.
Get Started Today!