Our App and SDK Intelligence
At 42matters, we provide insight into the mobile and connected TV (CTV) app economies.
Our team of data scientists has cultivated a rich environment of app, game, and SDK intelligence that serves as the foundation of our suite of APIs, File Dumps, and web-based app market research platforms.
By offering precise estimates for performance metrics like daily downloads and monthly active users, constructing granular app taxonomies and detecting SDKs integrated in apps, and building models for insightful topic and sentiment analysis, we enable a wide range of use cases that give our customers a competitive advantage.
The best businesses need the highest-quality app intelligence!


How Fresh Is Our Data?
For the most popular apps, we update our data daily. Other apps are generally refreshed weekly or when they release a new update or version of the app. Likewise, our SDK intelligence is revised whenever we detect that an app has been updated on the app stores.
If you need the latest and most outstanding intelligence, you don't need to wait for us to conduct a data refresh. You can use our Recrawl API to do it yourself or request an app data refresh via the Tech Support page.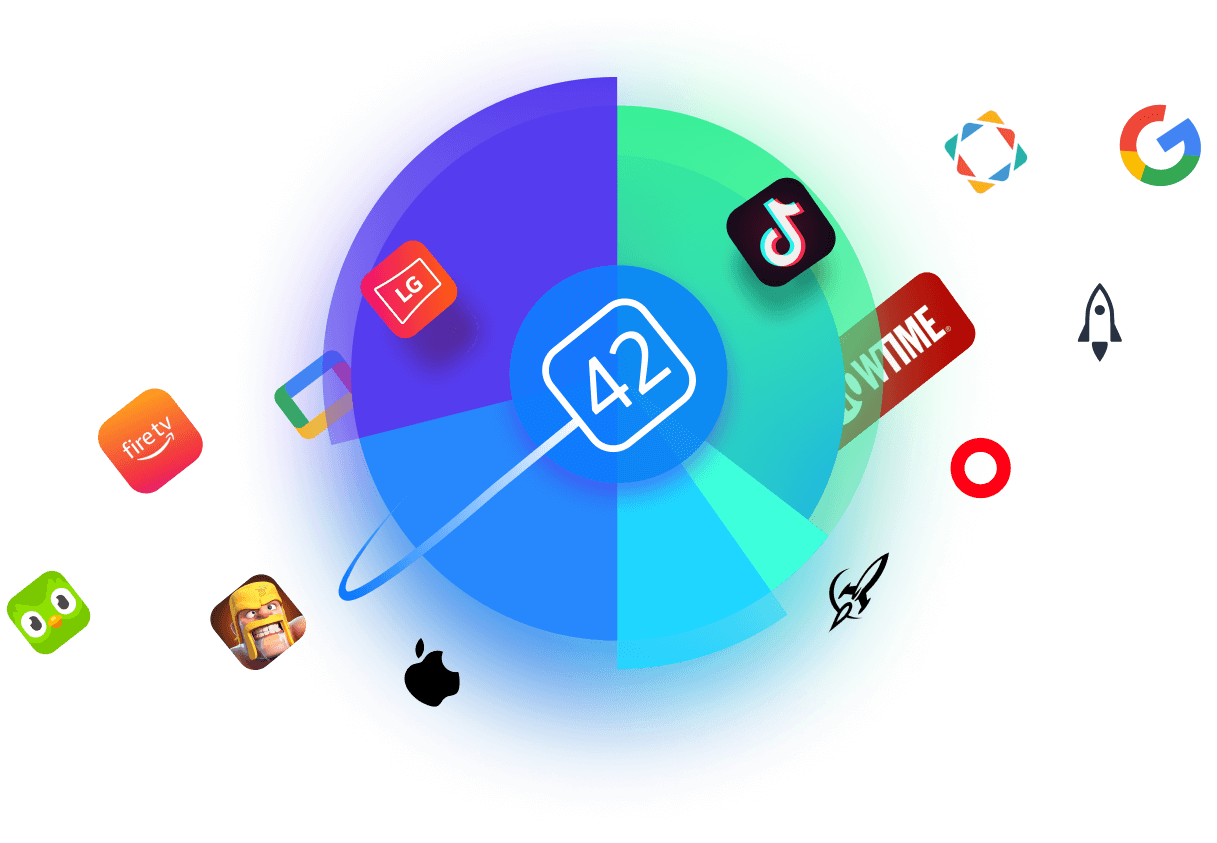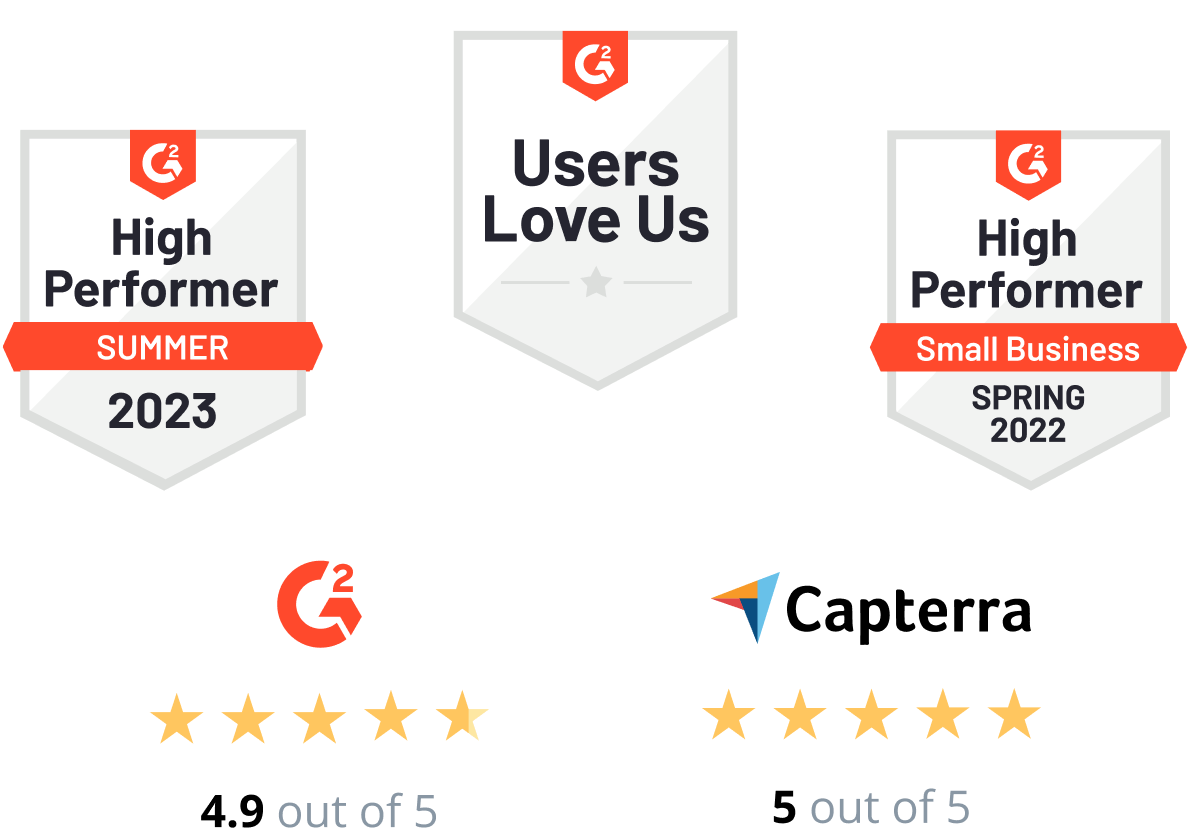 What Do Customers Think About Our Data?
We work with leading companies from all over the globe, including many members of the Fortune 500. It's our goal to provide them with data, insights, support, and integration capabilities of the highest possible caliber to help them accomplish their goals and grow their businesses.
For this reason, we're proud to be featured as one of the top performers among Mobile App Analytics Tools on the peer-to-peer review site G2, where users have given us a rating of 4.9 stars out of 5.
Which Platforms Do We Support?
We collect our data from 12 leading mobile and CTV app stores.
Google Play
Apple App Store
Samsung
Tencent
Apple TV
LG
Amazon Fire TV
Google TV
Roku
Amazon Appstore
Vizio
Huawei
Our Data at a Glance
20M+

Apps

2.1M+

Publishers

2,600+

SDKs
App
Publisher Leads
1.1M+ Android publishers, with contact details.
760K+ iOS publishers, with contact details.
Generate highly-segmented leads with insight into 2.1M+ mobile and CTV app publishers.
SDK
Intelligence
1,390+ Android SDKs and 1,200+ iOS SDKs.
An SDK taxonomy with 32 unique SDK categories.
SDK intelligence for 19M+ published and unpublished iOS and Android apps.
CTV
Market Insights
95,000+ CTV apps
40,000+ CTV publishers
7 leading CTV app stores, including Roku, Apple TV, Google TV, Fire TV, Samsung, Vizio and LG.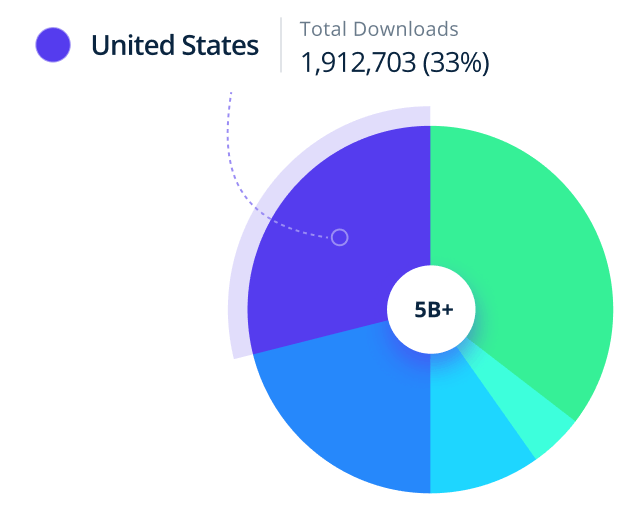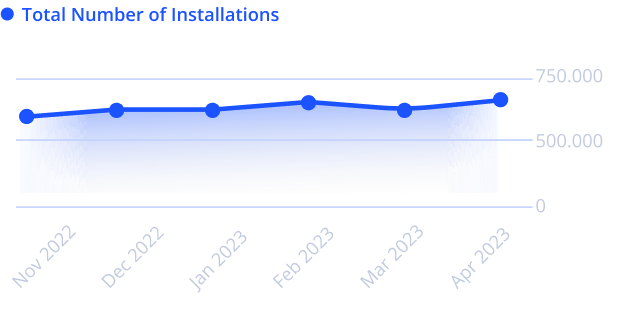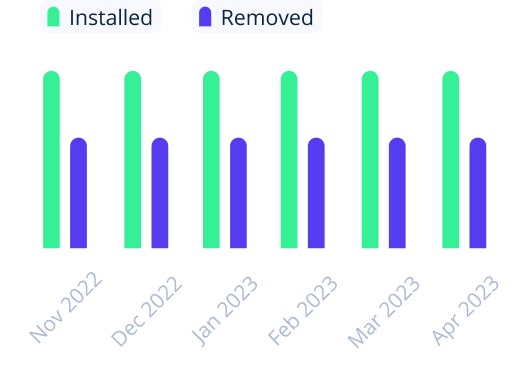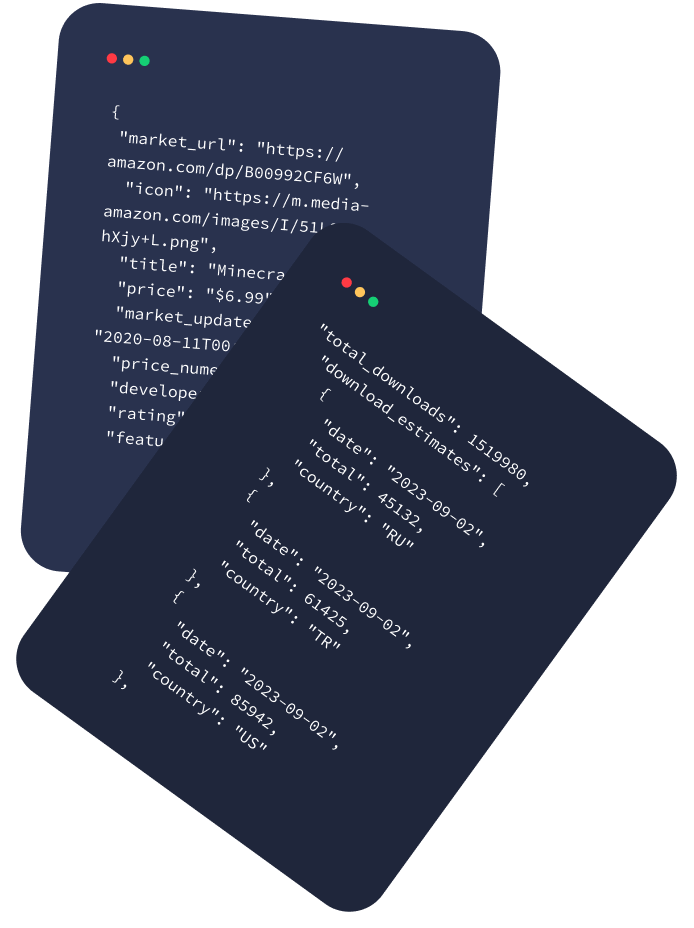 How We Turn Raw Data Into Actionable Intelligence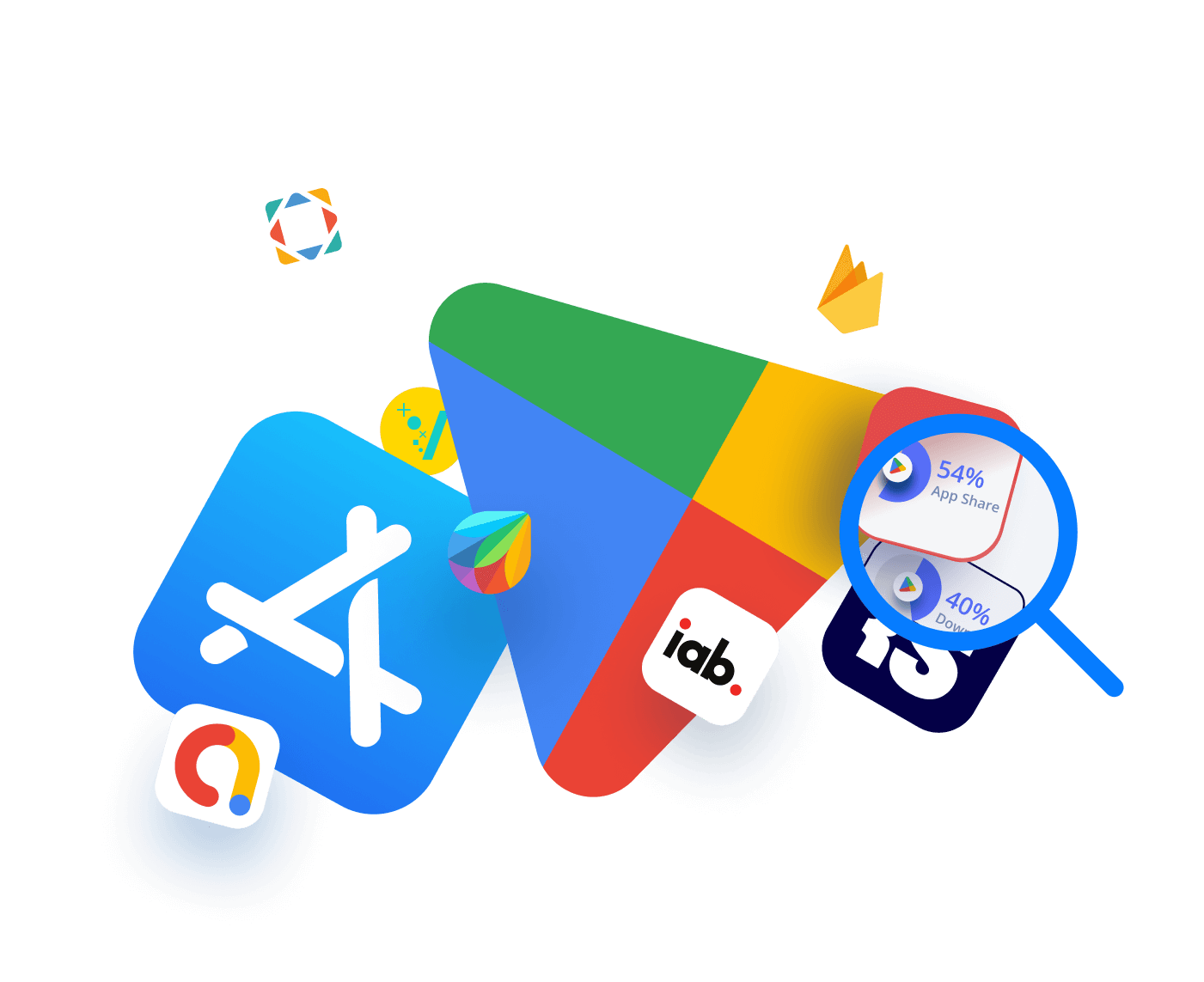 The Explorer and SDK Explorer
The 42matters Explorer and SDK Explorer are visual app market research platforms. They transform our data into tangible insights, providing access to thousands of metrics for millions of apps, games, SDKs, and developers across Google Play, the Apple App Store, and the Roku Channel Store.
Our APIs
We offer a suite of APIs that facilitate on-demand access to app intelligence from Google Play, the Apple App Store, Amazon Appstore, and Tencent Appstore. You can use our APIs to query our platform for the latest metadata, performance metrics, integrated SDKs, IAB categories, contact information, and other app insights that are relevant to your business.
Our File Dumps
Access our data in bulk and integrate it into your internal business operations. Our File Dumps are available for major app stores like Google Play, Apple App Store, Amazon Appstore, Tencent Appstore, and Huawei AppGallery, as well as leading CTV app stores like Roku, Fire TV, Apple TV, Google TV, Samsung, Vizio, and LG.
The App Watchlist
The most complete app benchmarking solution on the market. The 42matters App Watchlist enables you to track and compare mobile apps and games on a single, user-friendly dashboard. Never miss a new feature, version release, download trend, ASO keyword ranking, SDK integration, or permission update.
Frequently Asked Questions (FAQs)
What app insights do you provide?
Tons! We offer everything from performance metrics (downloads, monthly active users, ratings, and rankings) to metadata, developer details, integrated SDKs, required permissions, localization, and monetization techniques. If you need a particular set of insights, just let us know, and we'll set you up with the best solution for your requirements!
How do we get our app data?
Our App Intelligence estimates and performance data result from machine learning techniques and artificial intelligence algorithms that our data science team developed and tuned over the years to provide our customers with accurate mobile data. We do not use or process either panel data or data collected from user devices.
How often do you update your data?
We monitor many different data points and app metrics, so it depends on the data! While we update the most popular apps and worldwide charts daily, and apps that add or remove new SDKs as soon as they release an update or new version, we try to refresh apps every week, if not more frequently. However, to force a real-time update, you can use our Recrawl API or request an app data refresh via the
Tech Support
page.
How far back does your data go?
We never delete data, so if historical data is what you're after, you should look into our Historical Data add-on. For example, while most of our standard APIs provide up to 30 days' worth of data, you can access up to 3 years by updating to the Historical Data add-on. You can even get data going back 5+ years for our File Dumps. For more information, feel free to chat with our sales team!
Do you track all apps?
While we do our best to track all apps available on our supported platforms, we may have missed a few. For instance, this happens on occasion with newly released apps. If you notice we're missing an app critical to your mission, let us know, and we'll add it ASAP. Otherwise, you can use our API to refresh it yourself!
Do you track all SDKs, and how do you collect SDK data?
We do! We just haven't whitelisted them all yet. So, if you want data on an SDK that isn't currently visible in our products, let us know! We can get it up and running for you within 48 hours. As for how we collect SDK data, we get it from analyzing apps. By checking in on them regularly, we can detect which technologies apps use and which they've removed.