Top 20 Analytics SDKs Used in iOS Apps on the Apple App Store
Last update:
8 Dec 2023 CET
Top 20 Analytics SDKs Used in iOS Apps on the Apple App Store
We've run the numbers! We used the app intelligence we provide at 42matters to determine the 20 most widely integrated analytics SDKs leveraged by iOS apps on the iOS app market.
Analytics SDKs help mobile app developers collect and analyze data on how users interact with their apps. They provide a range of features and functionalities, including data collection, data processing, and data visualization, that allow app developers to understand how users engage with their apps and improve user experiences.
In order to compile our rankings, we analyzed the 2,300+ SDKs integrated in the millions of mobile applications that constitute the Apple App Store. This data provides a sneak peak into the rich mobile application insights generated by the 42matters APIs, file dumps, Explorer, and SDK Explorer.
The intended purpose of this article is to assist app builders in their search for the perfect analytics SDK to leverage in their app, as well as to give SDK developers insight into their biggest competitors and potential customers. Furthermore, this list provides market researchers with an intriguing look at the prolific and highly malleable data collected by our technology.
The 20 most widely-integrated analytics SDKs:
Browse iOS and Android SDKs With the SDK Explorer
SDK Intelligence

See how many apps integrate specific SDKs, how many times these SDKs have been downloaded, developer details, similar SDKs, and more.

New Installations and Removals History

Analyze installation and removal trends for SDKs. Discover which apps have removed or integrated specific SDKs in a given timeframe.

Market Share per Google Play and Apple App Store Category

See which app categories or genres are most likely to use specific SDKs. Detect SDK market share per category.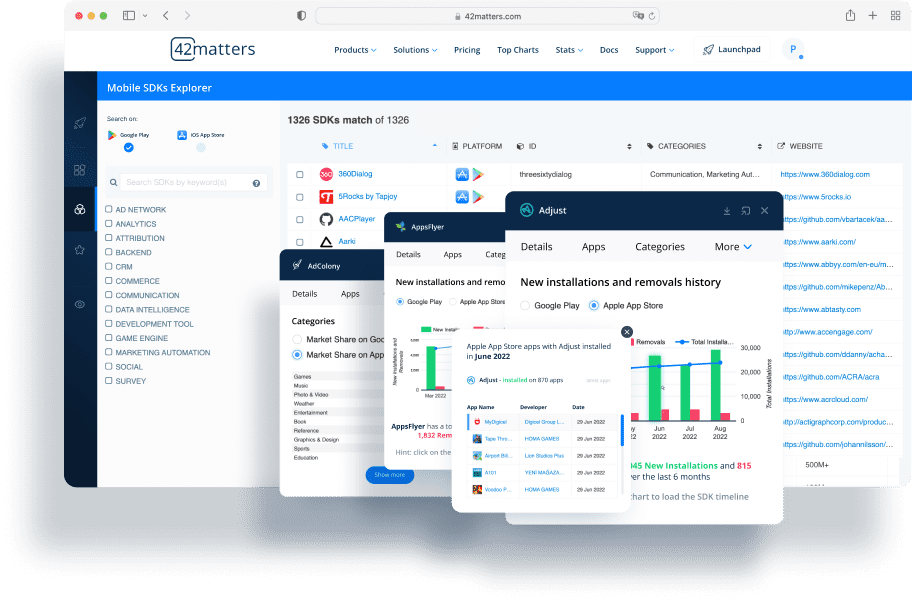 Frequently Asked Questions (FAQs)
How does 42matters collect this data?'
We've developed a number of machine learning algorithms that scan millions of mobile and connected TV (CTV) applications on a regular basis. In addition, we collect ground truth app performance intelligence and use this data to build statistical models that estimate the performance of apps for which we do not have ground truth data.
What SDK data does 42matters collect?'
We track over
2,300 of the most popular SDKs
integrated in iOS and Android apps. We collect a variety of SDK insights (title, platform, ID, category, and developer website); performance metrics (the number of apps that have installed each SDK, installation and removal trends, and app downloads); market share statistics (including market share per app category); and more!
How can I access 42matters' SDK data?'
The most direct way is to use our
SDK Explorer
, which is a visual, web-based research platform that enables you to peruse all 2,300+ SDKs that we track. It's great for market research, lead generation, competitor analysis, etc. However, more technically-inclined folks might prefer our
APIs
and
File Dumps
, which enable you to query info for specific apps or SDKs. You can also use our other research platforms (the
Explorer
and
App Watchlist
) to view integrated SDKs by app.
Can I use 42matters' solutions to generate app publisher leads?'
Absolutely! We actually
wrote about this on our blog
. We focused on ad network SDKs, but the examples are applicable to most SDK types. To summarize, you can use the Explorer's advanced filtering capabilities to home in on best-fit app publishers, leverage the SDK Explorer to see which apps use your competitors' SDKs, and use our APIs and file dumps to build custom lead generation processes.
What data does 42matters provide on mobile apps?'
A ton! We track 17+ million apps across Google Play, the Apple App Store, Amazon Appstore, Tencent MyApp, and Huawei AppGallery. Our solutions provide access to app details (developer insights, metadata, ASO keywords, contact information, etc.); performance metrics (downloads, MAUs, ratings, reviews, top chart rankings, etc.); technical insights (integrated SDKs, permissions, required capabilities, etc.); content details (categories, genres, IAB categories, content ratings, etc.); compliance information (app-ads.txt, privacy policies, store status, etc.) and much, much more!
Can I use 42matters' solutions to find SDKs for my app?'
Definitely. The SDK Explorer enables you to sort SDKs by category, identify similar SDKs, analyze SDK reliability, and more. In addition, you can use the App Watchlist and Explorer to monitor your competitors, including which SDKs they add and remove, their current tech stacks, and SDK changelogs. This means you use our solutions not only to find the right SDK for a particular purpose, but also which SDKs you might need to keep up with your rivals.