All the Mobile & CTV
App Intelligence You Need
Grow your business  with the most accurate mobile and connected TV (CTV) app data on the market.
12
Platforms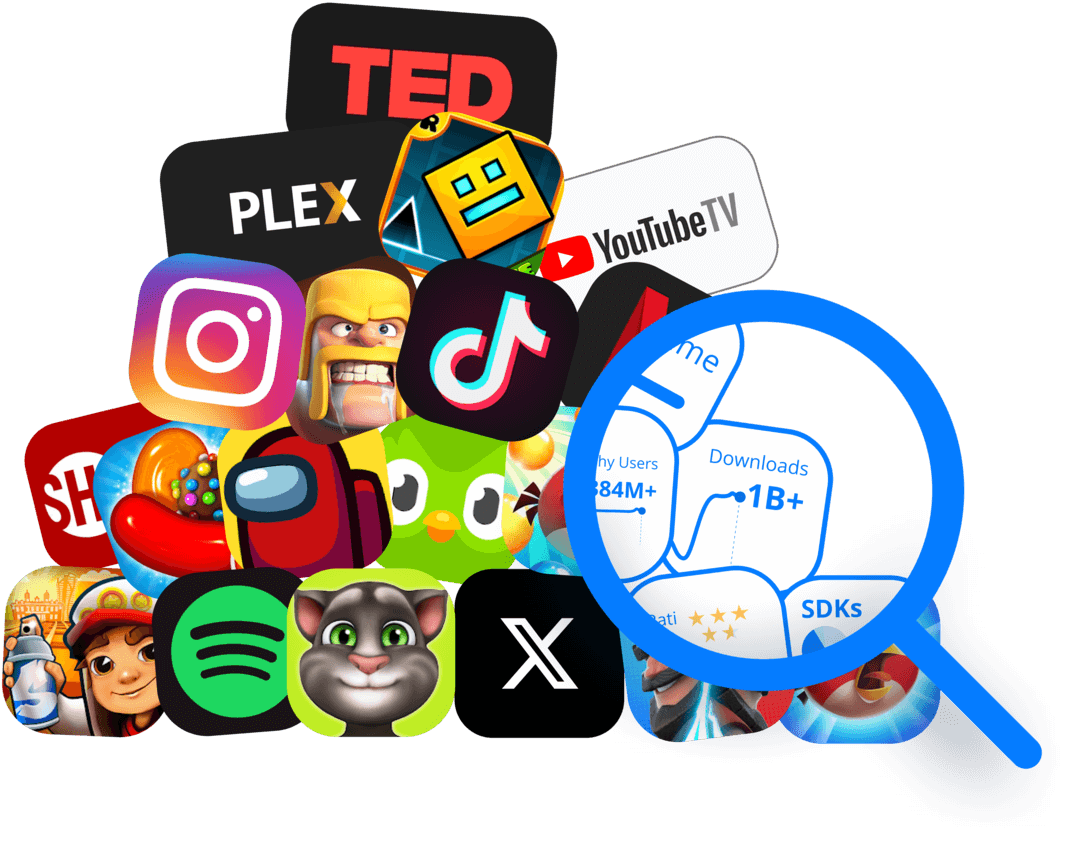 The best businesses need the highest-quality app intelligence!


Who Can Benefit From 42matters?
Use the most accurate app intelligence solutions on the market to boost ad targeting, maximize the value of ad impressions, and fight ad fraud.
Enhance Ad Targeting Techniques to Maximize the Value of Each Ad Impression.
Tackle Ad Fraud to Bolster Your Bottom Line.
Maintain Ad Quality and Ensure Brand Safety.
Verify App and Developer Quality to Filter Out Risky Apps.
Conduct Ad Tech-Specific Market Research and Set Alerts for Key Apps and Competitor SDKs.
Boost security by accessing thousands of data points on tens of millions of Android and iOS apps. Bolster your MDM and MAM strategies, improve malware detection, and prevent ad fraud.
Android and iOS APK/IPA Resources and File Structure Analysis.
Android App Signing Certificate Hashes: SHA-1, SHA-256, and MD5.
Catch Unusual App Permissions.
Android and iOS SDKs Integrated into Apps.
Monitor Risky SDKs and Determine Where SDKs Send User Data by Examining Their URLs.
Grow your pipeline and boost sales with app intelligence from millions of mobile and connected TV (CTV) apps and publishers. Create highly targeted lists of app publisher leads and export them as CSV files. Access the best tools for market research and competitor analysis.
Export App Publisher Leads Into Simple CSV.
Enrich Your Leads via our APIs.
Catch Unusual App Permissions.
Qualify Prospects Based on Their Current Tech Stack, Country Availability, Language, etc.
Define Your Ideal Prospect by Analyzing Apps That Use Similar SDKs.
What they say about us on G2
Arvind P.

Software Engineer

"Amazing product"

It contains pretty much all the data I require for daily use and is pretty accurate on everything. Extremely intuitive and easy to use as well. Also, the documentation for the API is on-point as well - it provides a ton of additional information, especially useful for integration with other apps.

Joe M.

Director of Sales Engineering

"42matters has exceeded my expectations!"

The SDK Explorer feature has been a tremendous value add to my companies market research and GTM sales efforts. The individual app intelligence around embedded SDKs, monthly downloads, geo breakdown, and user reviews has also been beneficial as we assess market opportunities across different criteria

"Simply the best solution for SDK intelligence"

42matters SDK intelligence platform has been a great solution for our sales and marketing team. Our market reach now is very focused and accurate. We are very satisfied with the solution.

Christoph B.

VP of Marketing

"42 Explorer is simply the highest quality database in the market"

The quality of the data is really good & rich. I know data from certain apps and 42Explorer was pretty much spot on.