Feature
Description
Google Play Store
iOS App Store
Full app details
Find an app that matches the specified package name and return full app details.
Full text search
Find apps that match a given full text query.
Filter and segment with Advanced Query API
Run an advanced query with multiple filters and sorting for all available app parameters for an app. Ideal for data analysis and market insights of app stores.
Enterprise file dump
42matters provides a full data dump of mobile app metadata for enterprise customers on a daily, weekly or monthly basis.
Country-specific prices
Get localized prices.
55
countries
55
countries
Languages
Get localized app metadata such as title, description, screenshots, etc.
35
languages
35
languages
Top charts
Retrieve the top app charts for a specific country, category and date.
55
countries
Coming soon
App Rank History
Get app rank history data for apps on Google Play Store and iOS App Store.
55
countries
Coming soon
Country availability
Check in which countries an app is available.
Quick integration
Our REST API makes getting app store data delightfully easy. For example, this simple HTTP call get you all the details of Clash of Clans on Google Play Store™ in JSON format.

curl "https://42matters.com/api/1/apps/lookup.json?p=com.supercell.clashofclans&access_token=YOUR_ACCESS_TOKEN" -X GET

Simple pricing. Scale your plan when you need to
BASIC
3'000 hits /month
Great for developers getting started.
EUR 49/month
Email support
START-UP
25'000 hits /month
Suits start-ups with a handful of customers.
EUR 199/month
Online support
PROFESSIONAL
100'000 hits /month
For companies requiring an advanced feature set.
EUR 599/month
Premier support
ENTERPRISE
More hits /month ?
Complete feature set with a custom annual price.
* Each request to the API is worth a certain number of hits. For example, 1 package name lookup counts as 1 hit. Please consult the API documentation for details.
Trusted by the world's most effective marketeers:
Test the power of our API with the free to use App Market Explorer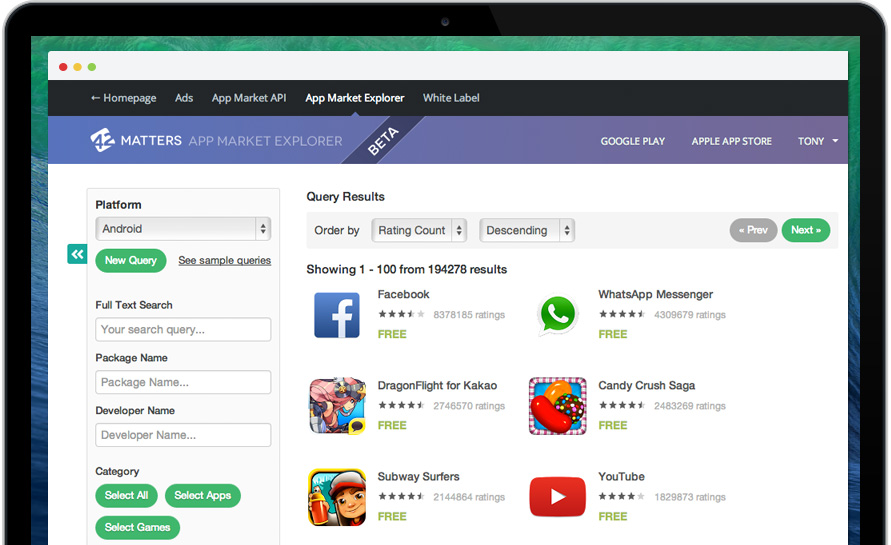 Want to know more?
Schedule an appointment with one of our knowledgeable associates to see how our products can help you grow your business.