The latest intelligence from the world of mobile and connected TV (CTV) apps.
or Explore by Topic
App publisher onboarding is an important process for mobile and connected TV (CTV) ad networks. Not only do they need the most up-to-date data possible to ensure that the process is straightforward and frictionless for app developers, but they also need highly granular intelligence to facilitate sophisticated ad targeting and high ROI ad placements down the road. In this article, we go over 13 ways ad networks can leverage our mobile and CTV app intelligence to simplify and optimize app publis
FTX fallout continues to rock the crypto world, claiming BlockFi as its latest victim. So, we analyzed demand trends for crypto-related mobile apps.
Black Friday is back! So, we analyzed the most exciting "buy now, pay later" (BNPL) apps in Germany, Austria, and Switzerland. Here's what we found…
CTV advertising is exploding. Here's how you can improve CTV advertising by increasing your CTV app inventory with best-fit app publishers.
We've developed a new file dump for Huawei's AppGallery. Soon, with 42matters, you'll have access to app intelligence for all Huawei apps and games.
Elon Musk has purchased Twitter. Now, millions of users are turning to alternatives like Mastodon, which has been downloaded 650,739 times this week.
With a new wave of retail-focused creator platforms set to hit app stores, we decided to analyze the performance of Klarna Creator. Here's what we found.
Two months after release, Gas, a viral social media app encouraging users to interact without direct messaging, is closing in on 2.5 million downloads.
Immersive social media app 'VUZ' has raised $20 million to scale its business. So, we analyzed the app's performance in 2022. Here's what we found.
Connected TV (CTV) and digital streaming platforms have caused a realignment in the entertainment industry. Here are 42 CTV stats that matter in 2022.
'The OG App,' an Instagram client promising an ad-free and suggestion-free feed has been removed from app stores. We dig into the numbers.
French social media app 'BeReal' has surged in recent months. Billed as the 'anti-Instagram,' the app has generated 50M downloads thus far in 2022.
The state of the app economy and app markets 2022. We take a look at which categories, publishers, apps, and SDKs have been dominating the mobile app landscape.
Downloads for the commission-free investment app 'Robinhood' are down 97% from their 2021 peak. Nevertheless, ratings and MAUs remain strong.
According to Elon Musk, Starlink is now active on all continents, including Antarctica. So, we decided to take a look at the app's global performance.
Flexible Access to 42matters'
App Intelligence Data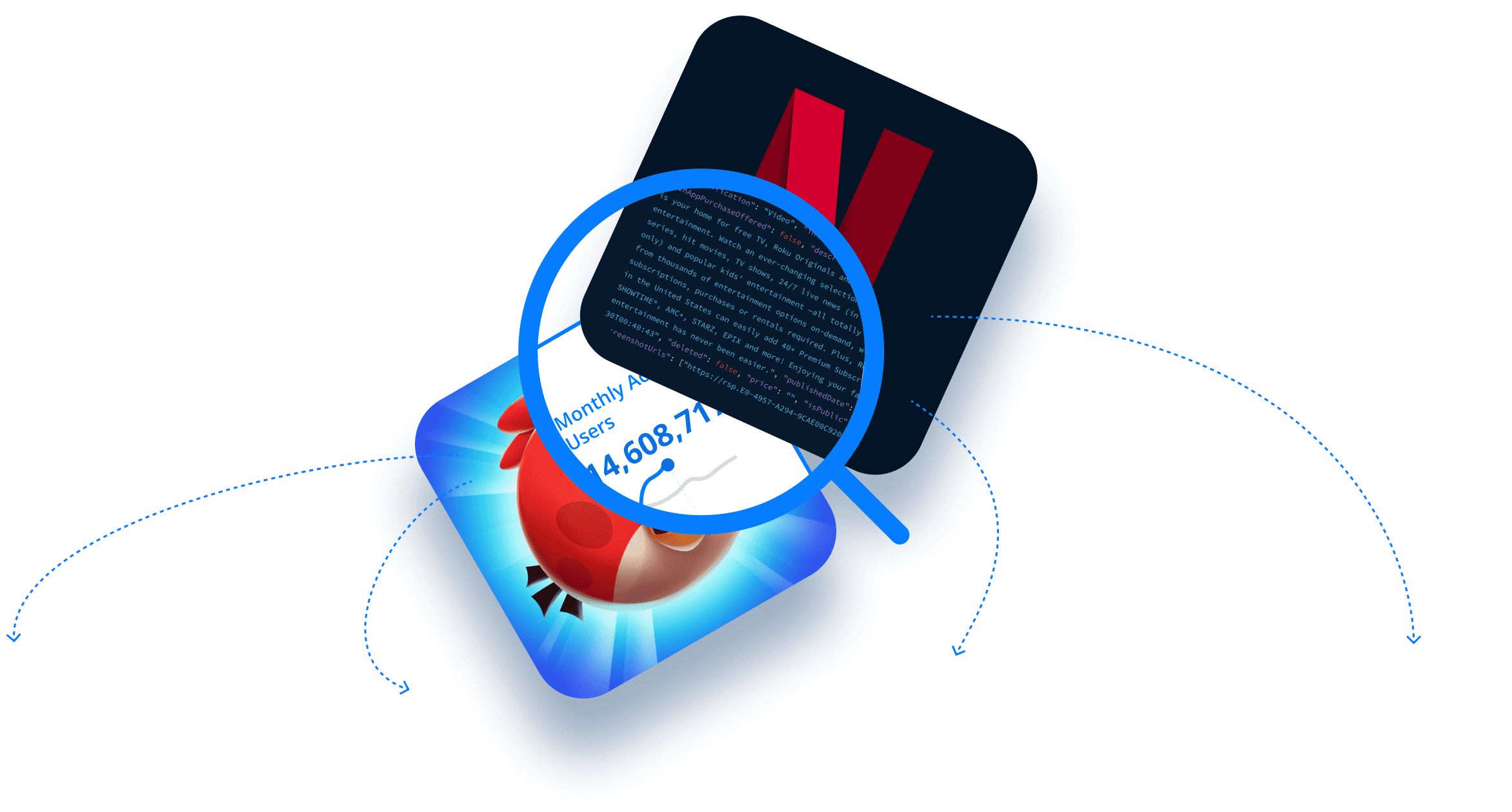 Explorer
Visually explore app intelligence for any iOS or Android app.
App Watchlist
Track and benchmark any iOS or Android apps on a single, unified dashboard.
API
Programmatic access to mobile and CTV app intelligence.
File Dumps
Download the latest app data and statistics and ingest them into your own system for further analysis.
Get Started Today!
The best businesses need the highest-quality app intelligence!